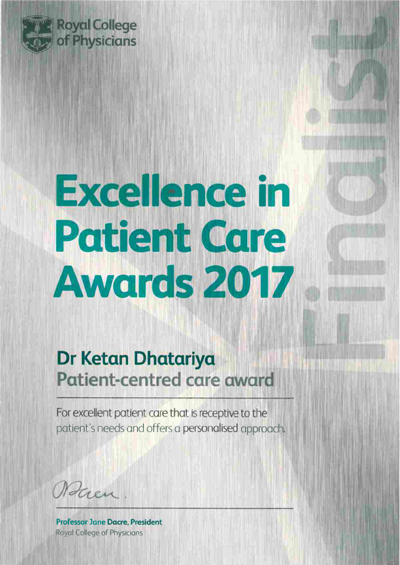 Dr Ketan Dhatariya has been presented with the 'Patient-centred care award'.
Dr Ketan Dhatariya covers the effect of diabetes care on surgical outcomes. Dr Dhatariya discusses the importance of peri-operative glucose control, presents data on hospital stays, and looks to future health programmes for guidance.
This lecture was filmed at the 'Diabetes and surgery: a multidisciplinary approach' meeting at the Royal Society of Medicine in London.
Dr. Ketan Dhatariya talking about the dangers and prevention of skin cancer on Mustard TV.
Dr. Ketan Dhatariya was awarded the Quality In Care award for 'Best admissions avoidance and/or safe discharge initiative'.
To read more about the project and the prestigious award click here.
Pintilie H, Petchy W, Dhatariya, K, Karim M.
A collapse with hypertension and hypokalaemia.
BMJ 2014;349:g6582
Dhatariya, K.
Aspirin resistance
Hospital Doctor 24th May 2007:33
>Dhatariya, K.
A Fond Farewell
CME Bulletin in Endocrinology and Diabetes 2003;4(3):73–74.